Words cannot express how happy we were to have had Elena as our wedding planner. Our wedding was like something out of a magazine! It was PERFECT and all because of Elena. From the moment we met Elena, she instantly made put our minds at ease with her knowledge and expertise. She had personalized checklists, made phone calls for us, and told us not to worry about countless things, as she did them for us. She was also constantly in touch with us and always made herself available for a chat. Elena saved us so much time and unnecessary stress that came with organising our wedding abroad. Elena was there from the very beginning coordinating all the suppliers not to mention arranging the site and coordinating all of our guests. Not only is Elena a perfectionist and ridiculously organised, she is an extremely genuine, caring and the loveliest person you could meet. Her presence made EVERY difference to us before and during the wedding. If you are looking for someone to assist with planning your special day, Elena is the one to make your dream wedding come true.

"Mariessa and Ross 10.07.2018"
We met Ms. Elena Kaourou in February 2016 to discuss a wedding venue we had in mind. Within moments of meeting her we knew we had found our wedding planner. I don't know what it was about her but I guess you get that gut feeling and we were right. She was absolutely amazing! She was very professional, took great pride in her work and let's not forget her attention to detail. Her knowledge was incredible; she knew everything and was on hand every step of the way. Her work was immaculate and I felt like I was spending time with a good old friend. Our wedding took place on 31st October 2017 and everything Ms. Kaourou promised, she delivered and more. We owe the whole of our wedding day to her and her team. She is the real deal and top quality.

"Martin and Emma 31.10.2017"
I got married in the Olympic Lagoon Resort Paphos in 2017. I have had the privilege of knowing Elena since August 2014. From her initial reply to my wedding enquiry I instantly knew Elena was going to be the perfect wedding planner. We went on quite a journey with Elena over the 3 years of planning that started with changes to the date and meal venues but ended with a wedding that was more fabulous than we could have dreamed. Elena is very knowledgeable about all aspects of wedding planning and accommodated all of my requirements. The suppliers she recommended were truly fantastic. Planning an abroad wedding was truly made easy with Elena. From her quick and reassuring responses to my many emails and phone calls. Her dedication and commitment to making our day perfect was truly outstanding. This was such a professional service with a personal touch as I knew she genuinely cared to help us plan our perfect day. The wedding day was so relaxing and went so smoothly, all thanks to Elena's meticulous planning and organization, her service exceeded my expectations. I remain in touch with Elena and we returned to Paphos in October 2018 for our first Wedding Anniversary. I emailed Elena and we arranged to meet up and she also arranged a meal for us for our Anniversary. This also demonstrates how wonderful and amazing she is to continue to go above and beyond. Elena is a lovely, kind and caring person and wedding expert.

"Kaiyliegh and Lee 13.10.2017"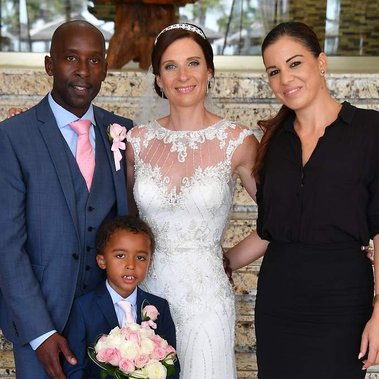 My husband and I got married in Paphos in 2017 at the Olympic Lagoon Hotel. We were lucky enough for Elena Kaourou to be our wedding planner. We arranged our wedding through a UK wedding company, however, we encountered many issues and problems which the UK Company could not manage or resolve. When we arrived in Paphos, a week before the wedding, we met with Elena and explained our concerns and issues we had already experienced. With her wealth of knowledge and experience she immediately put us at ease, resolving all of our outstanding issues and providing us with some new ideas and suggestions. From the moment we met with Elena we could tell that she was passionate about her job, ensuring that we would have the perfect wedding day. Elena took it upon herself to oversee our wedding from start to end. We could not of asked for more. Thanks to Elena we had the perfect wedding day and special memories forever!

"Kerry and Erskine 24.08.2017"
So although legally we were married on paper I had always insisted I would have my special day and it would be like no other. After weeks of research we finally decided on Cyprus. Planning a 4 day destination wedding from another country for almost 100 people from all different cultures and traditions was well more than a little stressful! Thank God For Elena who truly made my wedding vision possible and took so much stress out of all the planning. Extremely calm throughout the process, Elena was there every step of the way. Her extensive experience planning weddings meant that she was able to advise and direct me when needed – although I am sure I didn't make this easy for her! Having worked in events and hospitality for the last 12 years I had very fixed ideas on how I wanted my wedding events to look and feel and what type of experience I wanted for my guests as they were traveling so far to share in our celebrations. A perfectionist by nature I wasn't sure the wedding would live up to my own expectations but I can truly say because of Elena it was everything I could have imagined and so much more. To this day people still talk about our wedding as it really was such a perfect combination of all cultures, religions and traditions that left everyone feeling such a feeling of love and happiness. We had the perfect celebration surrounded by all the people that we love and cherish, it was beyond special and I couldn't have done it without my true partner through all the planning and execution – Elena.
"Katie and Moataz 30.09.2016"
Elena is like a fairy godmother! From the outset she quickly understood what we wanted to achieve for our perfect wedding day and helped us put everything in place including sourcing a local florist, bespoke wedding cake and other decorations. She guided us every step of the way. Her knowledge, attention to detail and overall co-ordination are exceptional. I would highly recommend Elena! She is a perfectionist who works extremely hard to make your dream and vision of your special wedding day come to life!

"Jo and Paul 13.05.2016"
A stylish wedding begins long before the guests arrive. It begins with masterful planning!


Spyros Complex Villa No 2
Anarita CY 8502 Paphos Cyprus


Email Address: Info@eternalweddingscyprus.com
Telephone Number: 00357 99329192


Registration No: EE50864a